Kevin Fischer is a veteran broadcaster, the recipient of over 150 major journalism awards from the Milwaukee Press Club, the Wisconsin Associated Press, the Northwest Broadcast News Association, the Wisconsin Bar Association, and others. He has been seen and heard on Milwaukee TV and radio stations for over three decades. A longtime aide to state Senate Republicans in the Wisconsin Legislature, Kevin can be seen offering his views on the news on the public affairs program, "InterCHANGE," on Milwaukee Public Television Channel 10, and heard filling in on Newstalk 1130 WISN. He lives with his wife, Jennifer, and their lovely young daughter, Kyla Audrey, in Franklin.

You eat what you like.

Makes sense. Of course, factors like cost and healthiness are generally taken into account.

There are even books that might help if you have a case of the guilts.





Just because you can eat what you like, and judging from our obesity rates far too many Americans take that premise to the extreme, doesn't mean you should.

A few nights ago, the Fischer family engaged in a Wisconsin ritual.







You know what that is.





New readers might think I'm about to blast a Wisconsin tradition. Regular readers understand the true no-no doesn't come until after the set-up, about 30 paragraphs in.

I seem to recall a previous no-no addressed the fish fry, only because of its calorie count. The weekly habit is glorious and could never be a no-no.

So, Jennifer, Kyla, and I are out on a Friday night. Guess what people are ordering. I try not to eavesdrop but I'm as observant as the next person, and it's tough when something is happening right under your nose.

Long after we had been seated, a very young couple was escorted to an adjacent table. When their order arrived, and again, sometimes it's just impossible not to notice, the young man look befuddled. Something wasn't right. He fidgeted and twisted and turned in an effort to find his waitress.

Again, it was impossible not to observe, and his plate looked like any other on a Friday night in Wisconsin… gorgeous. I couldn't perceive the problem.

When the waitress returned, the customer was calm, quiet, polite. But the waitress and his dinner disappeared. It didn't take very long at all before she was back with brand new plate that looked mysteriously similar to what had been taken away with one exception.

The first dinner arrived with a breaded fish fry. The replacement was the beer battered variety.

He smiled. His female companion smiled. The waitress smiled.

IS EVERYBODY HAPPY?

I was happy to see the incident handled so well. No anger. No frustration. No disrespect to the waitress who didn't prepare the entrée.

Does the story end here?

If you think so, you haven't been following Culinary no-no.

The beer battered fish fry has arrived. Obviously the preparation was the problem. Now that that's been taken care of, we can dig in, right?

And he did, but not before doing what every other diner does to a fish fry. He added an enhancement.

I repeat, it was staring me straight in the face. Every time I looked at the monitor with ESPN in front of me, I had literally no choice but to also see young lad attending to his beer battered fish fry.

No, I said to myself. He can't. He won't.

He looked down at his serving, happy that what he truly requested was now front and center. I think he even rubbed his hands together in sheer joy of anticipation of devouring a great fish fry.

And then it happened.

No.

Oh no.

He's not going to do it.

No way.

That's not possible.

Young man. Please, don't.

His hand reached across the table with determination. There was no doubt he wanted to grab, and he grabbed it.

NO!

DON'T!

He squeezed from his right hand onto his perfectly golden brown beer battered fish.
Then he took his fork and using it as a knife cut into the fish and swirled it around on his condiment to make sure it was slathered.

Was it....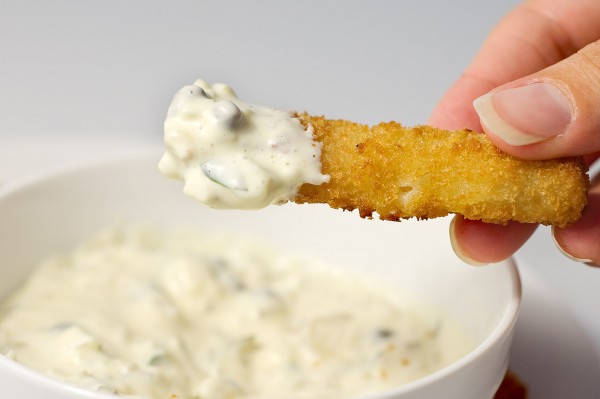 Tartar sauce?
No.

How about...







Uh uh.

He went for...







I hope the gasps have died down. Folks, in all my years on this planet, all in the Badger State, I have never, ever seen a fool dunk his perfectly prepared fish fry into a sea of red ketchup.

NEVER!

New readers will note that ketchup inspired the very first Culinary no-no many years ago.

Understand there's nothing wrong with ketchup…in its proper place.

Note the above photos. Do you see ketchup on the fish?

Ketchup is offered at a fish fry…FOR YOUR FRENCH FRIES!

Now, I will admit I will use so-called cocktail sauce, but that's on battered shrimp. Cocktail sauce isn't ketchup. Can't be compared to dumping Heinz on haddock.

The red stuff is good for limited use: french fries, a hot dog. I'm thinkin' that's about it.

That young guy I witnessed a few nights ago was the Ugly Wisconsinite. How not to eat a bona fide fish fry.

You eat what you like? I get that. But some combinations are just plain wrong.



CULINARY NO-NO BONUS
This site uses Facebook comments to make it easier for you to contribute. If you see a comment you would like to flag for spam or abuse, click the "x" in the upper right of it. By posting, you agree to our Terms of Use.