Kevin Fischer is a veteran broadcaster, the recipient of over 150 major journalism awards from the Milwaukee Press Club, the Wisconsin Associated Press, the Northwest Broadcast News Association, the Wisconsin Bar Association, and others. He has been seen and heard on Milwaukee TV and radio stations for over three decades. A longtime aide to state Senate Republicans in the Wisconsin Legislature, Kevin can be seen offering his views on the news on the public affairs program, "InterCHANGE," on Milwaukee Public Television Channel 10, and heard filling in on Newstalk 1130 WISN. He lives with his wife, Jennifer, and their lovely young daughter, Kyla Audrey, in Franklin.

A few days ago at my office desk I excitedly opened my lunch, leftover Pork Involtini from a great Franklin restaurant, Casa di Giorgio.







Yum, yum, yum, my wife packed a good one today! I marched down to the kitchen and microwaved the rolled pork tenderloin filled with roasted red peppers and Asiago cheese in a Kalamata olive tomato sauce.

Back at my desk I was anxious to dive in. All I needed was utensils. I reached into my lunch bag and found a good, sturdy knife. Next was the fork.

Another look into the bag and what did I see? Another knife.

Huh?

Oh, it must be buried in there somewhere.

No sir.

Mangia, mangia! Yeh, how the hell was that supposed to happen?

I dialed home and when my lovely wife answered I proceeded to, in clear earshot of some colleagues, tease her unmercifully. I laughed. So did those around me. Jennifer did not. She wasn't embarrassed, but felt terrible. A few e-mails and reassurances that one of a gazillion plastic forks on the premises would suffice erased the unnecessary guilts.

Have you ever been embarrassed your spouse, or vice versa?

Of course it happens. No marriage is a complete fairy tale (Sorry, Dear, but you did forget my fork).
I recall when I was very young a dear uncle told my folks a story that eventually was repeated to me. My uncle and aunt were in San Francisco and hoped aboard a cable car. My uncle, in a gregarious tourist moment wanted to perch on the outside step and hang outside the car while grabbing onto a pole.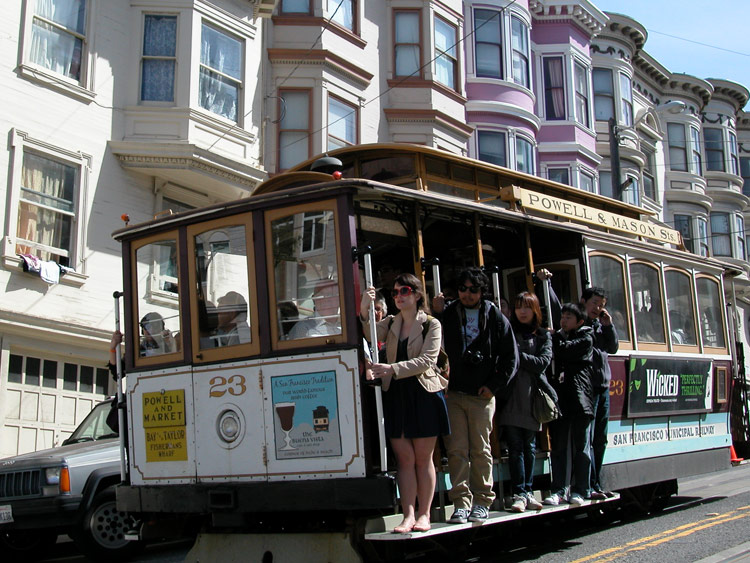 Photo: sanfranciscodays.com
This, of course, ranks very high on the cool-o-meter. Unless…

My uncle got to the outside steps and was about to enjoy something truly thrilling when the roof caved in, the soufflé collapsed, the dog threw up on the cat, the clock struck midnight.

There came a sudden yell, not a scream, but close. The shriek was filled with part fright, part demand. My aunt, in one blaring sentence, commanded my uncle to drag himself back inside the cable car at once or else he would die, or something like that.

His face was covered with a three-egg omelet. It's a wonder he didn't end up in San Quentin.

OK, maybe some embellishment there. But years later, whenever the subject came up, my uncle was still steamed, forever remindful of how he was treated like a 5-year old in the City by the Bay.



A missing fork or an overly-protecting wife is nothing compared to a story recently published in the Wall Street Journal.


"Michele Phillips and her husband, Gary Wadds, were hanging out on the porch with friends one evening in Piermont, N.Y., when the talk turned to hiking. One person mentioned a local trail, another raved about her new hiking boots. Then Ms. Phillips chimed in with, 'Gary and I fooled around behind some rocks on a path on Bear Mountain—and another hiker saw us.'

"The reaction? Silence. Mr. Wadds shook his head and retreated into the house. Ms. Phillips finished her story, and the friends had a laugh."


The newspaper then offered ways to cope when such embarrassment occurs.

Experts seem to have a concensus that the issue is overblown. If that is indeed the case, you know, all's well that ends well, then it should be dismissed, forgotten.

Reminds me of an old Flintstones episode where Fred and Barney secretly plan to buy a restaurant, but then Fred has to deal with a suspicious Wilma who wants to know why two young girls (carhops who are seeking a job Fred and Barney refer to as Charlie and Irving) are calling for him.


This site uses Facebook comments to make it easier for you to contribute. If you see a comment you would like to flag for spam or abuse, click the "x" in the upper right of it. By posting, you agree to our Terms of Use.